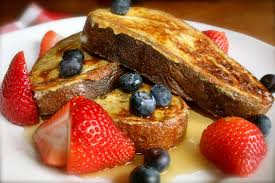 Vegan French Toast
Ingredients

:
3/4 cup almond milk or soymilk
2 tbsp tahini
1 1/2 tbsp maple syrup
1/2 tsp vanilla
2 tbsp flour (use rice flour when wanting to make this gluten free)
a dash of  cardamom and a dash of nutmeg
a bit of oil for 'cooking'
your choice of Healthy Bread
ps: A good option to make this dish gluten free is to use the bread from "Food for Life" company (yeast, wheat & gluten free Multi Seed Rice Bread)
 Preparation

:
In a small bowl, whisk together the almond or soymilk with the tahini, maple syrup and vanilla.
Add flour, cardamom and nutmeg, adding more or less flour as needed to get the proper consistency. Mixture should be just thick enough to hold to the bread. Pour into a shallow pan.
Dip each slice of bread into the mixture, coating each side well. Cook on a lightly oiled skillet over medium high heat on each side.
ps2: If I have some left over fruit that I can cook down to make a nice yummy fruit compote, spice it up with cinnamon, coconut nectar, raisins…let it stew and pour over French Toast ~ Delicious …
or just cover it with a bit of maple syrup and cinnamon 🙂 or any fresh fruit of your choice!
Trust you and the family will enjoy it thoroughly
ps3: This recipe was graciously shared by Shivanter
In Love, Light and Happy Eating
Lydie Ometto